Learn Italian in Italy – Italian language school in Italy
Italian language school in Italy – Learn Italian with Fun!
Italian. It's the most beautiful language in the world. To learn Italian is to learn a language that is captivating and ancient, the language of the world's best food and style. Its vocabulary is rich with cuisine, and its sound is like doing a slow-moving dance with a partner.
The special pleasure of learning Italian is not to be missed if you travel in Italy. Each year Italy attracts the largest number of tourists in the world. Visitors sip espresso in cafes that seem to exist outside of time, and they wonder: what is the secret that these Italians have?
The secret is the Italian language. And to know the secret you have to learn Italian. Every time you let the words roll off your tongue, you begin to unlock the secret.
Today learning the language does not have to be some boring experience. You can learn Italian in the middle of a great adventure while on holiday, surrounded by beautiful skies, sunny beaches, wonderful food, and ancient mystery.
This is what you get when you enroll in a study abroad program at our Italian language school in Italy, Solemar Academy.
Taking an Italian course in Sicily means you are ahead of the curve. Tourists crowd into Milan, Florence, or Rome and have a rushed experience that later leaves them dissatisfied. Sicily, however, is the smart destination today. It offers a land to explore that is full of secrets – a truly unforgettable experience. And the same goes for our Italian language school: full of energy and fun.
Imagine: in the morning you practice the delicious Italian language in small Italian classes where the emphasis is on real-life communication. At mid-day you go to the beach and soak up the sun. In the afternoon, you go diving or horseback riding – maybe you go hiking up a volcano or take off from one in a paraglider. Later, as the air cools in the evening, a meetup with new friends around the barbecue in the garden or cook together indoors. Or maybe a film with pizza – or perhaps you are getting served by your waiter at a fine restaurant in the old town of Cefalu.
When you experience Sicily with us, you will learn Italian in a carefree and pleasurable way. Our Italian classes are a part of your adventure, not a distraction from it. At the end of each class, you leave ready to make the most of your day, more confident to speak with local Italians at the hotel or on the beach. Every piece of Italian language you pick up adds color and value to your vacation.
You should already be booking your flight. Of course, there is even more to know about your experience here with us, and we are happy to give even more details.
Study abroad in Italy – Solemar Academy – Italian language school in Italy

Our Italian language school Solemar Academy, is located in Cefalu – an ancient and unique town on the north coast of Sicily. Experience is definitely our major selling point. Thanks to our long-established parent company, Solemar Sicilia (with thirty years in travel and accommodation), we offer the strongest package there is: Italian language courses designed to entertain and make the most of your time combined with high-quality accommodation full of character. On top of that we see to it that you have wonderful outdoor experiences, memorable social encounters, and first-rate leisure activities that you will find both thrilling and relaxing. Just take a look at our magnificent Villa Caterina and you will understand.
Our Italian language school is only 100m from the sea, and the facilities we provide for learning are peaceful and stimulating. We have five classrooms, a common area with library, a coffee nook, and a pleasant outdoor space. Just steps from our Italian language school is some of the best ice cream in the country, but if you are more hungry, a five minute walk will take you to FoodSicily Market, where our friend Simone has plenty of authentic meats and cheese made within a kilometer of the market.
You can also have a look of our study abroad reviews to get an idea.
Italian language classes in Italy – Italian language school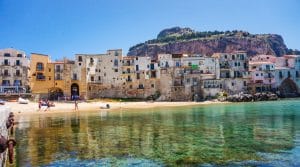 The first day of class we meet at 08:30. You do a short but important placement exam and a brief talk with the teachers. While the team is organizing the groupings, our dynamic director Valerio will give you the highlights of the week's activities over an espresso.
.
Italian Language Group Courses
.
Standard Italian classes – Italian language school in Italy
Aimed at everyone who wants to learn Italian in small groups. Standard Italian courses start every Monday and groups are arranged according to ability. During the course we focus on the four language skills (speaking, writing, reading, listening) and highlight issues of cultural interest.
Combined Italian courses – Italian language school in Italy
The combi course is aimed at students who wish to learn Italian and combining group lessons with individual study. As a student, you are entitled to one unit of study per day on top of the standard course. Choose grammar, culture, vocabulary, or another special area of study. The combined Italian courses are ideal also for those who want to prepare for CELI exams.
Intensive Italian courses – Italian language school in Italy
Our intensive course is a serious, practical curriculum that combines the standard Italian courses with two additional units of group Italian classes per day. During these extra hours we focus on business, culture and practices. This course is accepted by German institutions as meeting the standards of the Bildungsurlaub.
.
Individual Italian Classes
.
One to One Italian courses – Italian language school in Italy
This course is for motivated students desiring the opportunity to take an individualized course with self-study. Teachers establish what topics of grammar, communication, and culture should be studied with the student. This course is also ideally suited for those who wants to learn Italian and preparing for CELI exams.
One to Two Italian courses – Italian language school in Italy
This course gives two students the great chance to pursue a custom-made course. Both students must book together and have the same level of Italian.
.
Online Italian Courses
.
Learn Italian online – Italian language school in Italy
This course is ideal for all students who would like to continue to have a practice in Italian after coming back home or before arriving to Italy. You can book a package of 10 Italian classes or a single unit online with one of our teachers. More details here
E-learning Italian classes – Italian language school in Italy
The package includes one sending multimedia materials (text, video, songs, exercises) per week with subsequent correction. The course also includes one Skype/Hangouts session. More details here.
.
Study and Work Programs
.
Italian classes and Volunteering – Italian language school in Italy
The program combines 2 weeks of "combi Italian course" and 2 weeks of volunteering in a WWF center. During the volunteering, period the candidate will work together with other members of the center (Centro Educativo Ambientale Serra Guarneri). Accommodation and food during the volunteering period is included.
Learning while working Italian courses – Italian language school in Italy
This course is meant for those who wish to stay in Italy for a long-term period and take the course while interning with an Italian company.
Club 50+
The Club 50+ programme is designed for mature students who would like to dedicate two weeks to an Italian language course which runs alongside a rich program of leisure activities. Discover Sicilian flavours, history, art and landscapes! The programme includes leisure activities, a standard course and the guarantee that all fellow students will be of the same age.
Programme Dates:
25.03.23 – 08.04.23
21.10.23 – 04.11.23
.
Italian Cultural Programs
.
– Italian language and culture courses are combined with Standard Courses, start on Tuesday and end on Friday for a total of 4 lesson units (in a group). To participate you must have at least an A2 level of Italian –
Attualità Italiana
readings of newspapers, commentary and debates
Mafia e Antimafia
history, stories, videos and accounts of this phenomenon
Musica e Cantautori
listening practice, lyrical analysis and insights into the world of Italian singer-songwriters
Cinema Italiano
video screenings, interviews and insights into Italian cinema
Racconti d'Italia
understanding Italy through literature, stories, poetry and legends
.
CELI EXAMS Training Course
.
The CELI exam course (University of Perugia) offers two versions and is of variable duration. The student can choose the One to One version or the Combined version. In the first option, all units are studied individually alongside out teacher. During these sessions, the student will be helped to analyse past exam papers, address particular difficulties they may encounter and review homework assignments by their personal language coach.
The Combined variation is a hybrid of the standard course and individual lessons. The standard course serves to deepen the student's general understanding of the Italian language. During the individual units, on the other hand, the candidate focuses exclusively on exam preparation.
In both cases, the candidate is provided with past papers, given advice on how to deal with the exam paper, and sits both written and oral mock exams.
Italian language school in Italy – Accreditations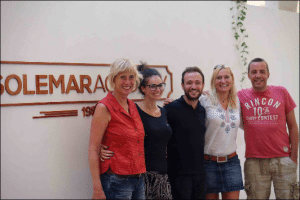 Quality Italian courses. This is important. We have always known that our teachers were competent and effective. But we also wanted some proof. So we opened our doors to premiere accrediting bodies and the proof was there.
Let's begin with the accreditation of which we are proudest. From July 2018 we have become a member of the prestigious ASILS organisation (Association of Italian Language Schools). ASILS Italian schools are the most important in Italy. Each of the approximately 50 schools to have been admitted has been required to demonstrate that they can pass stringest qualitative, organizational, structural and transparency controls.
We are also part of EDUITALIA, the largest organization promoting Italian Language Abroad
Solemar is also approved by the University for Foreigners of Perugia for administration of CELI exams (Certification Exams in the Italian Language).  If you are hoping to be accepted at an Italian university or just want to test your language ability, Solemar Academy is the right school for you. If you are an Italian teacher and want to certify your expertise, you can do the DILS-PG at Solemar Academy.
The University of Siena chose us for curricular training. This means that students learning Italian can complete their course by doing an internship at our school.
The school also obtained accreditation from the Regione Sicilia, which has recognized the substance of our curriculum and from University of Palermo.
Another accreditation of which we are very proud is that of the European program Erasmus Plus. Thanks to Action Key 1 (aimed at individuals from all sectors of education and training) it is possible to apply for an Italian language course at our school, to carry out an internship or to subscribe to one of our training courses.
If you are interested you will need to indicate in the application our Organisation ID: E10164313.
For German students, we offer Bildungsurlaub. We are accredited with the federal states of Berlin, Bremen, Hamburg, Hessen, Schleswig-Holstein, Thüringen, Niedersachsen, Rheinland-Pfalz, Brandenburg and Saarland.
A number of Italian cultural institutes are affiliated with us and regularly send students to deepen their study of the Italian language.
If you are student at universities of Vienna, Salzburg, Monaco, or Strasbourg, you may be eligible for scholarships to our school.
Finally, many Italian language schools across the world such as Italienisch Werkstatt di Berlin, CentroCulturalItaliano in Spain and Italingua in Chicago have worked with us for many years.
If you are interested in the opinion of former students, have a look to the reviews page.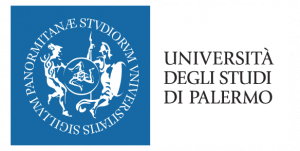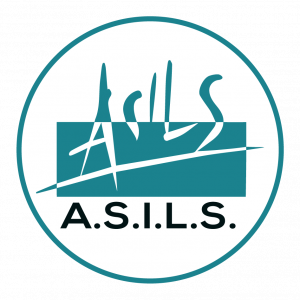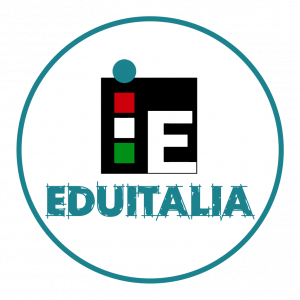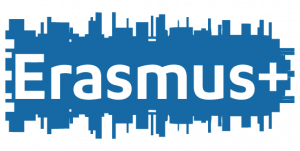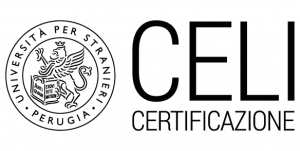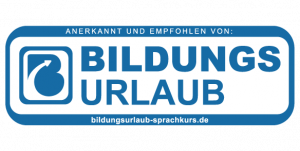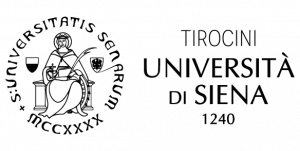 Learning Italian Our Way
Our method – in a word – is communicative. It's the natural approach to learning. Many people have experienced the frustration of a course where the teacher teaches out of a book and students only memorize words and grammar. This doesn't happen in our Italian courses. Forget the boring lessons. Our Italian courses begin by simulating real contexts and the experience of communicating in a variety of social and cultural scenarios. Our students are encouraged immediately to use Italian in a natural and independent way. It stimulates student creativity as well. Our Italian classes are meant to give students a well-rounded, complete, and holistic grounding in the language.
Learn Italian with authentic materials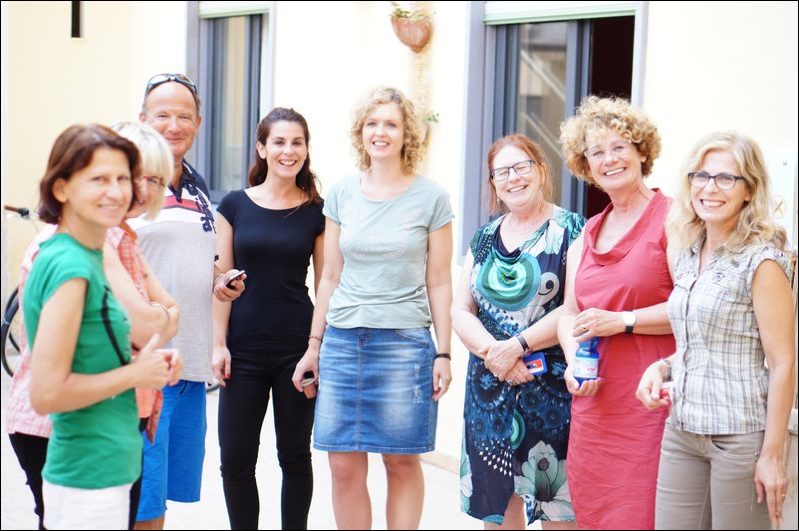 Over the years we have often wondered what would be the best textbook for our students. Some time ago we settled on the answer to that question, one we already knew: there is no perfect textbook. No single book can meet everybody's needs. Sometimes a student can have a good grounding in grammar but great difficulty speaking. In that case, you cannot rely on a book. We have always approached the issue of materials in a creative way based on our many years of experience. At the beginning of each Italian course, following the placement test, we interview students about their interests and the reasons they want to learn Italian. Then our teachers prepare a syllabus consisting of a plan of study with topics and skills custom-made for the class or for the individual student. The linguistic side of things come to you, the student, through what interests you most.
Study abroad and Study Trip to Italy – Italian language school in Italy

If you teach Italian abroad and want to bring your students to a Study Trip to Italy – look no further. Cefalu is without question the perfect choice to learn Italian. We will list just a few reasons why:
✔︎ Cefalu is a safe place. In this picturesque medieval village, life has a regular rhythm. People walk on foot, there is little traffic, and all the amenities are within a fifteen-minute walk. Life is energetic and interesting, but not dangerous. Cefalu is zero crime, but lots of fun.
✔︎ Cefalu is a cultural city. With its Arab-Norman cathedral and many other sites, Cefalu has a thick, historical atmosphere that foreign students find incredible. There are many festivals, celebrations, artshows, and other events.
✔︎ Cefalu has a central location. To the west is the city of Palermo and its airport and to the east, Catania and its airport, so Cefalu is reachable by both. Cefalu is also located right at the edge of Madonie Park with its natural beauty and outdoor activities including hiking, horse riding, etc. Boat trips leave from the port of Cefalu to the Aeolian Islands. Solunto's archaeological park is only 60 km away from Cefalu.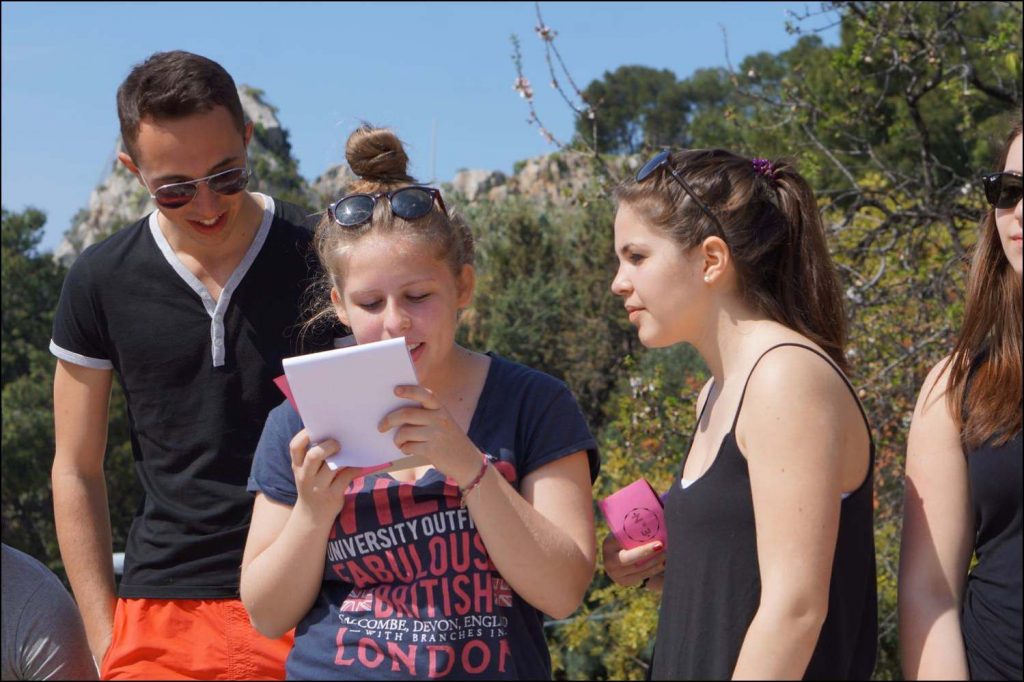 We presently work with many high schools and overseas institutions and understand what two requirements are most important for a quality study abroad offer: flexibility and professionalism.
The educational activities program is laid out in a well thought-out and personalized way so that your study holiday represents a definite added value to the learning done at home.
Tours and excursions are selected according to guests' expectations and the cost.
As for accommodations: we warmly recommend the option of our student residence, Villa Caterina. This is proven to be an excellent choice because it allows us to have all students in a single location without separating members of the group. Naturally, one can still also book rooms at the hotel. We work in a way that ensures maximum reliability with high standards (for example, by offering access to a pool and a gym) at very competitive prices.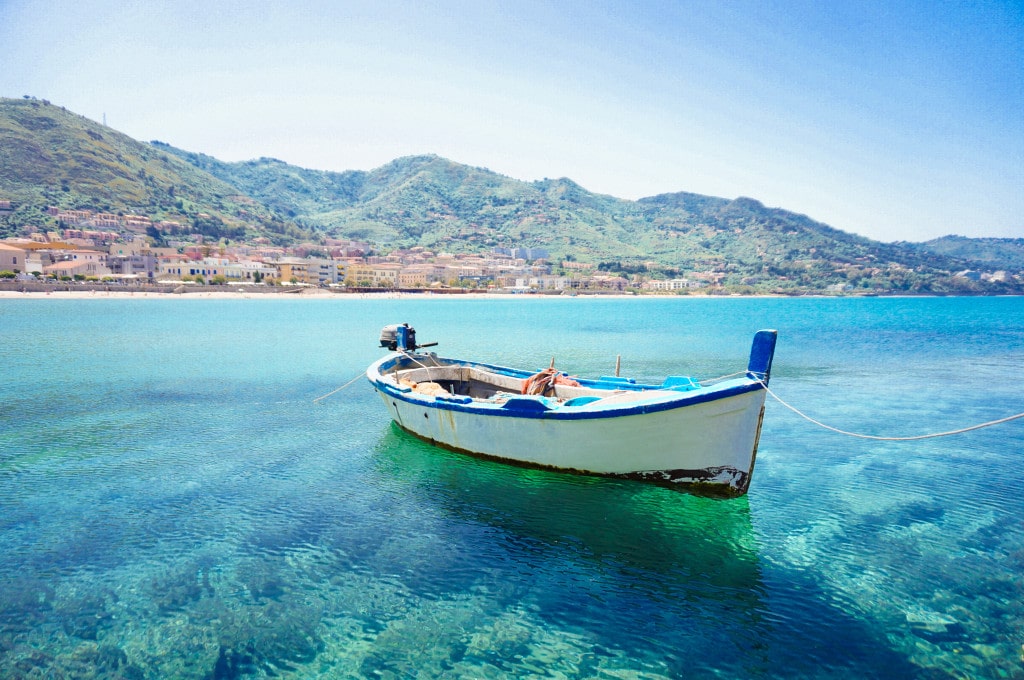 During your study holiday, you will be taken care of by one of our staff who is available 24h a day.
Finally, to ensure the most authentic study abroad experience, we can have your students connect with some young local Italians of the same age. Usually this contact starts well before arrival and takes the form of email exchange so that your stay in Sicily is as engaging as possible.
If you are interested in organizing an Italian Study Trip to Italy and need more details about our Programs, have a look to our page and get in contact with us.