Leisure Activities on Your Study Holiday
How's this for an unforgettable Sicilian experience? Travel back to the time of Hercules, defy rumbling volcanoes, slip through small seaside villages, explore the mysterious Madonie Park on horseback, take flight on a paraglider, free as a bird…
All this and more is waiting for  you at our boutique Italian language school. We like to work hard, then play hard, because we know students learn so much more when they are stimulated by the culture, history, and traditions that make up our homeland of Sicily. With us your education won't be limited to vocabulary and grammar, but the whole Sicilian experience. We guarantee it!
Sicily is the perfect tourist destination, with so much more to offer than just sea and juicy lemons. There is something for everyone in its splendid ecosystem, whether you prefer smouldering volcanoes or peaceful, calm waters – and those who appreciate Italian cuisine are most definitely in the right place! Lovers of the arts, tradition, and archaeology need look no further: The Phoenicians, Greeks, Arabs, Normans, and Spaniards all left their mark on Sicily's colourful history.
Below you will find just some of the incredible optional leisure activities on your study holiday with us. And remember: we want your experience to be completely authentic. Forget big, stuffy coach buses and tour guides grimly brandishing umbrellas. You'll travel in small groups, visiting locally-recommended destinations at just the right time of day.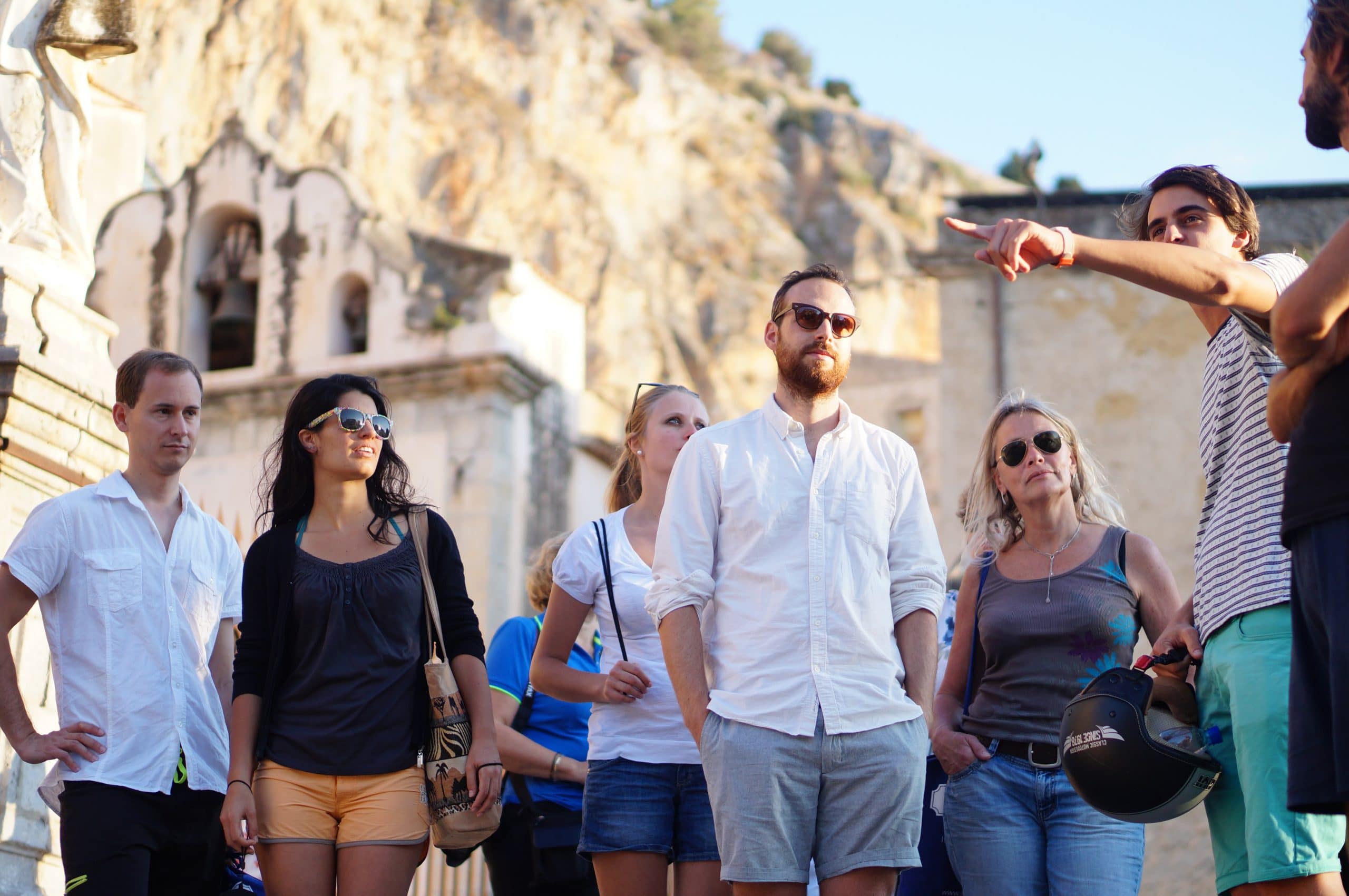 What we like to call our 'Semi-Serious Walking Tour of Cefalù', is offered as a welcome experience to new students every Monday and a great way to ease into the programme of leisure activities on your study holiday. Let Valerio or Giuseppe lead your way through the historic old town, pointing out secret history and local legends along the route.
If that whets your appetite to discover more about Cefalù, take a look at this guide to the city.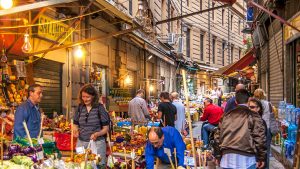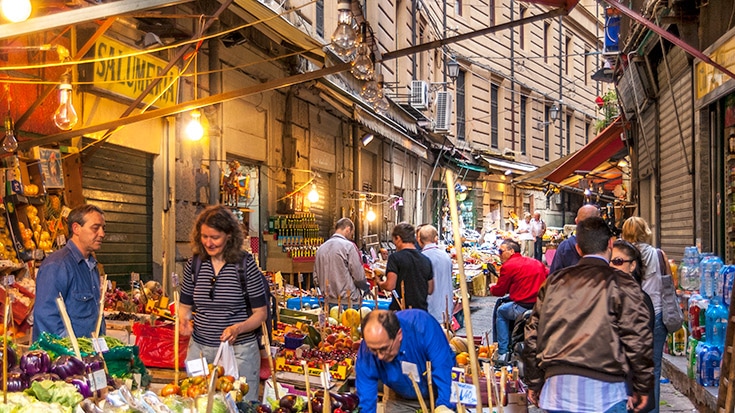 Palermo's markets are its cultural arteries: a huge, free-flowing supply chain not just for groceries but news and gossip, culture and art. You'll find beautiful fresh produce from the hills and sea alongside some fascinating antiques and curiosities.
As students of the city's history will readily understand, the atmosphere here is reminiscent of an Arabian souk and the secret to find what you're looking for is to rely on local people. This is a huge reason why our tour is so appreciated: Francesco, our guide, knows these markets like the back of his hand.
To get a flavour of Palermo, check out this video of one of the city's most unique and colorful characters, Rocky della Vucciria, a meusaro whose local streetfood staple has been keeping locals and tourists well fed for decades.
Finally we would like to remind you that the Solemar Academy is a proud member of Addiopizzo, the  association of anti-mafia entrepreneurs.
Our tour begins at dusk in the Kalsa district, following the streets around the Foro Italico and reaching the Piazza della Magione. This hub of summer nightlife was the birthplace of the city's famous pair of anti-mafia judges, Giovanni Falcone and Paolo Borsellino. We will stop for dinner at the famous Focacceria San Francesco, itself a symbol of the anti-mafia resistance. The owner, Fabio Conticello, is an old friend of ours, and always delighted to chat to our students about his work, experiences and the district's rich history.
After refuelling we will continue to make our way through the other three districts of the historic Old Town: Vucciria, Ballaro, and Capo.
Always a smash-hit with participants, this walking tour is led by our charming and infinitely knowledgeable guide, Thomas.  His ability to be informative and hilarious in an impressive range of languages will showcase the city in all its color and vibrancy.
We are proud to confirm that our tour is a member of the anti-mafia association Addiopizzo.
Everyone knows that in Italy you eat plenty and very well, but the secret is that in Sicily you do so even more and even better! Even the Northern Italians cast envious glances at the variety of culinary traditions found on this Mediterranean Island. The complex and varied history of Sicily created (in every sense) a true melting pot for a cuisine which has produced unique and unmistakable dishes. This is no country for the junk food junkie!
Never mind photos and fridge magnets, what better way to share your language holiday experience with friends back home than to return with a mastery of a few choice Sicilian recipes? This Sicilian cookery course makes a wonderful addition to the leisure activities on your study holiday, and we guarantee these will impress any gathering.
In the traditional working class recipes of cucina povera, fish is preferred to meat (we're an island culture, after all) and seasonal fruit and vegetables are found in abundance. Hearty dishes and delicate flavours are often produced with a true 'zero-kilometre' mentality. What can be a weighty ecological undertaking in other regions and countries is just a way of life in Sicily!
Desserts and sweet treats could fill a whole extra chapter of our cookbook. Local ingredients, especially fruits and peels, mixed with a blend of Latin and Arabian traditions make typical Sicilian confectionery a bucket list item for the sweet-toothed.
To open a door into this vast, fascinating world, Solemar Academy organises cookery courses specially tailored to students of Italian. You'll start with an introduction to the history of the cuisine, continue by looking at the preparation of some carefully-selected dishes and build up, of course, to a magnificent dinner where we can taste our labours. Naturally, paired with the very best local wines!
The aperitivo is one of Italy's most important social rituals.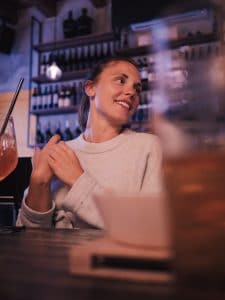 The formula is simple: some delicious early evening snacks, aglass of wine, a chilled beer or perhaps a spritz to accompany it, relaxing music in the background and lots of free-flowing conversation.
Every week Solemar Academy organises an aperitivo where students can mix with their teachers and the school's other staff in some of Cefalù's most popular spots. It's the easiest and most enjoyable way to get to know each other, practice a little conversational Italian, and – literally and metaphorically – melt the ice!
We only choose places where we like to go ourselves with friends, to enjoy good company and unwind after a long day's work.
When it comes to wine in Sicily, we really know our grapes! With crisp whites, flavourful reds and fruity rosés, there is something for everyone. We'll never let our students go thirsty!
Solemar Academy regularly organises guided visits for wine lovers to the fantastic winery of the Abbazia di Santa Anastasia, one of the largest and best producers of organic and biodynamic wines in Italy. The evocative old Abbey, found in the hills outside the medieval village of Castelbuono, is as steeped in history as it is in viniculture. Founded by Count Ruggero d'Altavilla in the 12th century, it later passed into the hands of the Theatine Order of monks, and then the Benedictines.
Both indigenious and international grapes are cultivated here, with particular attention to the ecological footprint: a combination of high-tech equipment and alternative energy sources are used in the production of its superb wines.
On arrival at Santa Anastasia, our students will be guided by Abbey staff around the atmospheric cellars, learning all the secrets of wine production and storage. And don't worry, you won't go home without a chance to sample some of their favourites, alongside an assortment of local snacks.
Ahoy there! Set sail – in a first-rate motorboat – across the crystal-clear waters of the Sicilian Meditarranean. Stunning views and suntans are guaranteed on this most luxurious of Italian expeditions. Take in some of Sicily's greatest views from a unique vantage point.
The boat trip lasts about three hours, although this is flexible on request. Of course, we only sail when the sea is calm, and light refreshments are provided (we are Italians, after all!).
Passengerswho would like to swim, snorkel and discover some of our underwater sights can do so, too: Captain Fabrizio always has extra goggles, flippers, and snorkels for his guests. If you have your own equipment you're of course welcome to bring that, too.
Always a high point of our students' study holiday, the boat trip is not to be missed!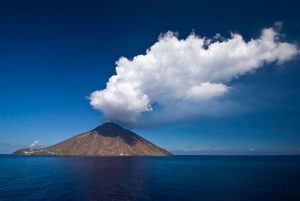 Secret coves, deserted beaches, waters of turquoise and active volcanoes – quite a day out, right?
The Aeolian Islands are a spectacular archipelago of paradise: even in a country as beautiful as Italy there's little to touch them. We guarantee that you'll return with enough photos to make your Instagram feed the envy of your friends for months!  The Aeolians represent the raw, untamed side of Sicily's nature.
Trips to the islands leave almost every morning, with a length varying dependent on the route. The shortest and cheapest trip is the tour of Alicudi and Filicudi, the smallest islands. For this the boat sets sail in the early morning from Cefalù's small port and returns home in the late afternoon.
On Lipari and Vulcano secret coves and beautiful caves abound. On this excursion you can bathe in crystal clear tropical waters. With this itinerary the boat returns at sunset, just in time for dinner.
The longest trip includes the islands of Salina, Panarea and Stromboli, returning late at night (around 11pm). But this includes an unforgettable experience: a circumnavigation of the volcanic island of Stromboli at sundown, when the great rock is at its most active. You'll never forget the breathtaking sight of nature's most spectacular firework display – from a safe distance!
All excursions leave from the port of Cefalù (a short walk from town), and operate between May and the end of October.
A Ramble through the Woodland of Guarneri
Our very own Italian teacher Simona will accompany you on a discovery of the fantastic Guarneri woods, which stand just 8 km outside Cefalù. Let her help you discover the varied native vegetation of this exotic Mediterranean landscape, as you encounter cork oaks, holm oaks, wild pines, wild olive trees, a variety of animals of all sizes and plants of countless varieties.
You'll work up quite an appetite in that fresh hillside air, so this walk culminates in a tasting session of traditional Sicilian produce at the Serra Guarneri Environmental Education Centre.
Undiscovered Sicily – Exploring the Madonie Park
The medieval villages of the Madonie are our destination on this journey through the one of Sicily's most beautiful natural landscapes. Stretching from the beach at  Cefalù right up into all the way to the highest mountain range in Sicily, where you can even ski and snowboard in the winter months.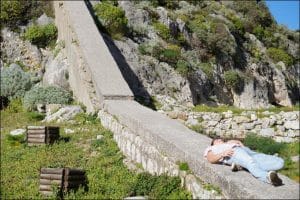 Our driving tour takes you into the Undiscovered Sicily through the stunning towns of Geraci Siculo, Gratteri,  Castelbuono and Pollina.
In Castelbuono you can sample the award-winning panettone of the Fiasconaro bakery, judged the best in Italy by more than one jury, as well as other local delicacies like manna, the moreish, treacle-like resin that locals named after the legendary nectar of the gods. Take in the princely castle of Ventimiglia, recently restored and opened to the public.
The tour continues with a visit to the stately baroque chapel of St. Anne. In Gratteri, you get to enjoy not only the breathtaking panoramas and the fortress which once protected this hilltop town, but the spectacular caves.
The last stop is usually at the gorgeous village of Pollina, a typical Madonie community made especially memorable by sprawling sea views and the remarkable outdoor amphitheatre which has been carved out of the rock itself. Truly an unbeatable backdrop! 
Another option to enjoy in the summer months is the dramatic gorge named the Gole di Tiberio. Even many locals aren't fully aware of the majesty of this truly special place. Take a refreshing dip in some of the cleanest spring water you'll ever find, as it winds through the mountainside.
You're not the type to spend your study holiday soaking up the sunshine on our beautiful seafront? Looking for a more dramatic form of exercise than a few strokes in our crystal-clear waters? Then Soft Trekking through the majestic Madonie is the right thing for you.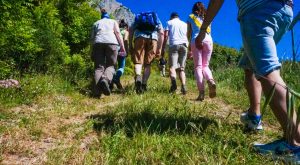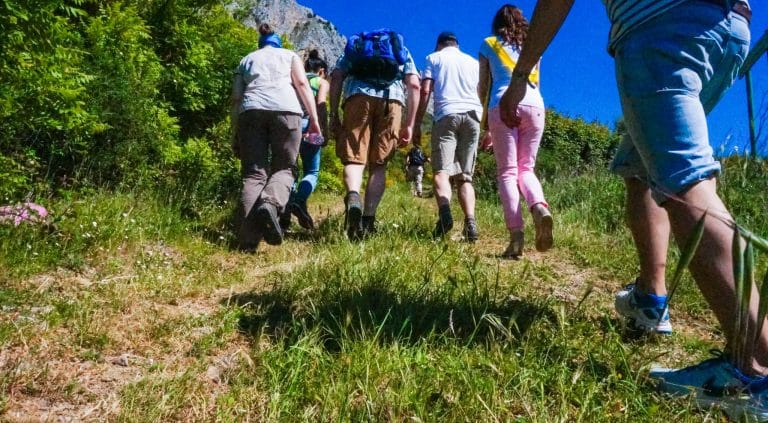 We start our trek from the medieval village of Gratteri, where our expert guide, Dario, will tell you a little about the area's past.
From there we will hike the path that leads to the historic ruins of the Abbey of San Giorgio and the impressive Rock of Monaco… Can you guess where it got this unusual name?
Continuing along the 12km route, you will pass through a beautiful forest of ancient cork trees and discover the old cottages of the shepherds who once tended this land.
The tour comes full circle back to Gratteri – but the adventure is not over! There will still be time to visit the spectacular Gratteri caves, a magical site where the power and elegance of Sicilian nature are on full display.
Taking one last chance to drink in the views of the valley, we enjoy a well-deserved glass of local wine as the sun goes down.
And finish it off, the tour includes a hearty dinner of delicious local fare including pizzas and Sicilian cannoli.
Paragliding – Free as a bird
Everybody dreams of flying. And we can make it happen.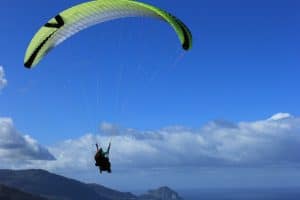 There's no  better feeling than paragliding. The view of a lifetime with a peacefulness uninterrupted by motors and machinery. And you can enjoy it on your Italian study vacation. Serenely and calmly, you will glide above a colorful Sicilian village bathed in warm sunlight and breathe the fresh summer air up where it's at its purest. Paragliding with us is the experience of a lifetime, giving you, in every sense, a brand new perspective on the world.The birds-eye view of green mountains meeting the turquoise sea is something you will never forget.
Paragliding is safe
However it looks, the chance of being involved in an accident while gliding is much smaller than having a car accident. And with us, the chances are even smaller: we follow a strict 'safety first' policy and fly only in perfect weather. In Italy, anyone who wants to be in a glider alone has to be a trained pilot, have a medical certificate and flight insurance. And pilot training is every bit as strict as it is in the UK or Germany, if not more so.
Paraglide without a license
You just said it wasn't possible! Actually you can – pilots are allowed just one single passenger. Flying in tandem, you get to float through the air free as a bird while the pilot takes care of all the details (probably for the best!). Even students who considered themselves to be afraid of heights have said that the stillness and lack of noise meant that they were able to enjoy the experience in a way they would never previously have considered possible. The calm float and controlled, steady descent to the beach makes it an experience for all to enjoy. It could even be the route to conquering your fears!
Your paragliding pilot is like a chauffeur. He is a member of the Italian Air Club, is state-certified, and is approved for passenger transport. You will even be covered by accident insurance.
Take-off – there are three different take-off points: Pollina, Lascari, and Cefalù. The departure place depends on wind direction.
Landing – Your gentle landing will usually be right on the beach of Cefalù, Lascari, or Pollina. Under some (rare) wind conditions, you may end up right where you took off.
The Madonie are a wonderful place to experience up close. The nature is still undisturbed and pristine. Why experience it through a glass window and over the roar of an engine? To really take it in in, there's no better way to get around than on horseback?
Solemary Academy organizes trips lasting between two and five hours in length. We start in the hills directly above Cefalù and set off along unpaved roads into the woodlands. Take in the rolling scenery as  the rhythmic pace of the horse (well used to being ridden by inexperienced jockeys!) while the local guide regales you with local history and anecdotes. Once up above the clouds you will be able to look back and enjoy the view down towards Cefalù from a vantage point few have the chance to enjoy.
Tours are led by experienced professionals with a lot of experience. Horseback riding, there's no more fun or charming way to experience the great Sicilian outdoors – and no better way to take in a sunrise or sunset!
The Archaeological Park of Solunto
The Solunto trip is very popular with our students. Amazingly few tourists are even aware of the place, though the locals realise what a gem they have in their back yard. Solunto is a paradise for anyone interested in archaeology. Located between Cefalù and Palermo, it stands on a hilltop with a breathtaking sea view.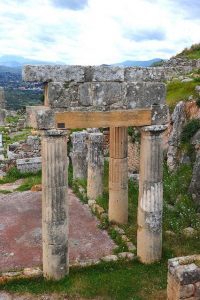 The origins of this complex site date back to the Phoenician period, around five centuries BC. At that time in history, Solunto (along with Palermo and Mozia, a tiny island off the island's west coast) were the most important cities in Sicily.
Today, the site is mercifully overlooked by tour operators, leaving the few knowledgable guests who make the journey the chance to enjoy the natural beauty and historical fascination of the site. The city's strikingly modern layout is still very visible, with streets, homes, the gymnasium, villas, squares and more all in evidence, plus a including a temple and beautiful theatre which date from the Greek occupation.
As you can see, Solunto was ruled by many masters, including the Romans as well as the Greeks. The archaeological evidence of each of these eras are visible like strata in rock. Solunto is a lovely day trip, a more local, cheaper and less touristy alternative to the more popular Valley of the Temples in Agrigento.
We will explain the full programme of leisure activities on your study holiday each Monday morning during the coffee break.
Students are free to choose which activities to participate in, subject to the registration deadlines set by the school staff.
Registration and payment for activities are made directly at the school.