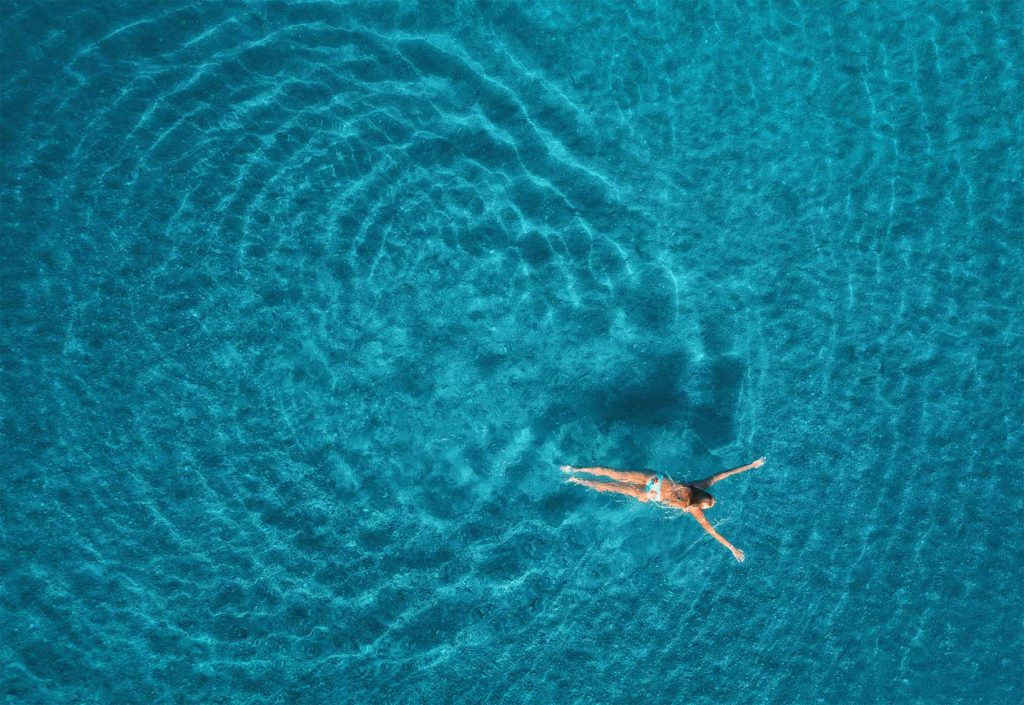 Solemar Academy
a boutique language school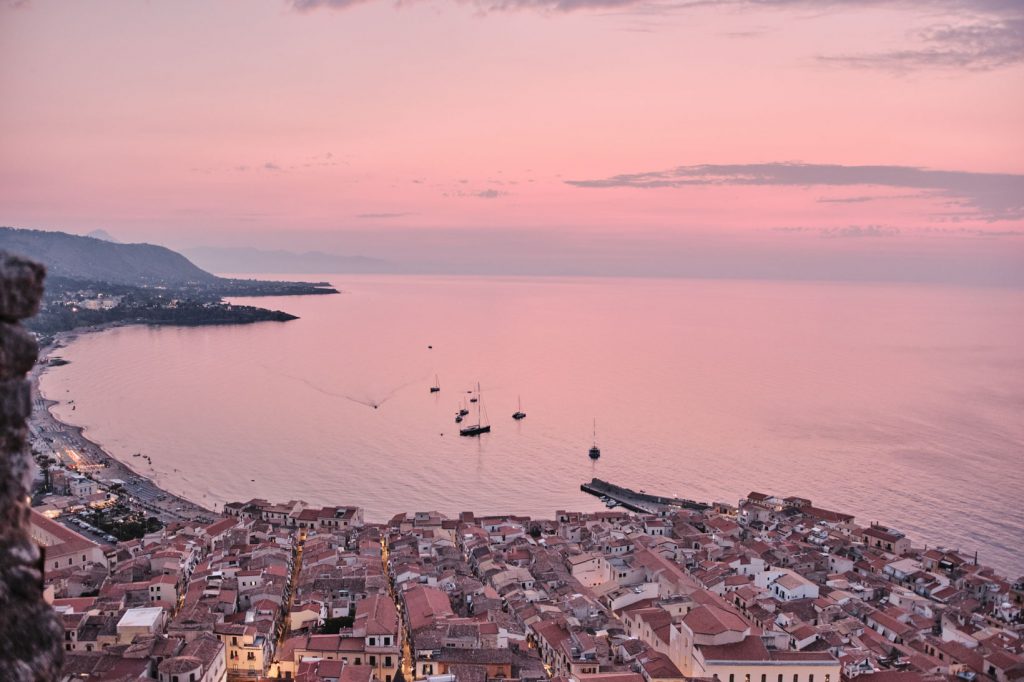 Solemar Academy
learn Italian right by the sea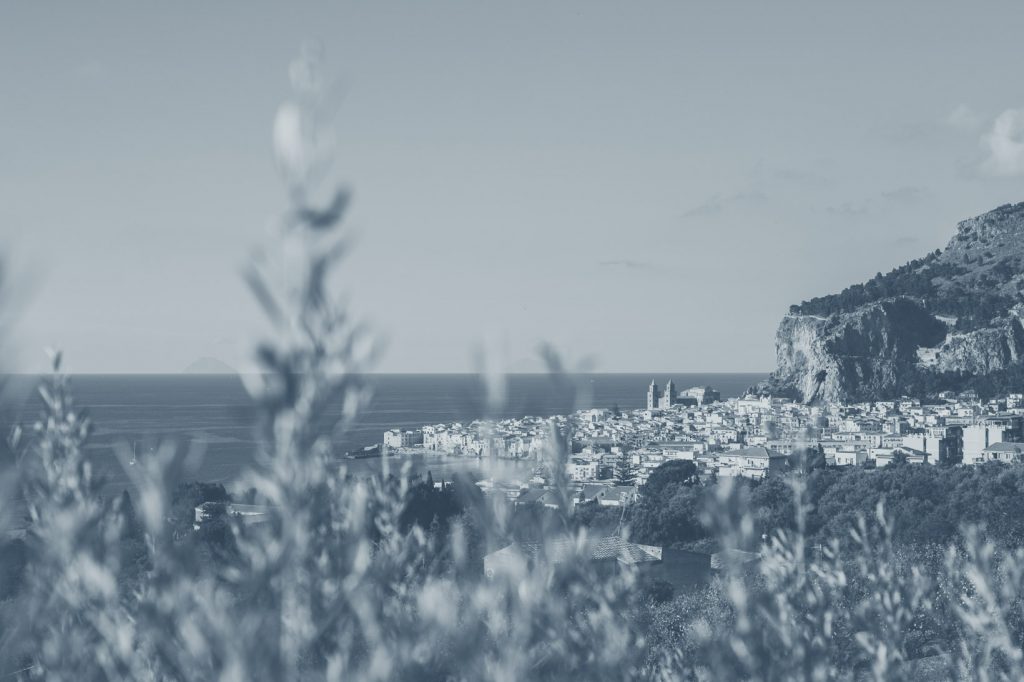 Solemar Academy
study Italian in Sicily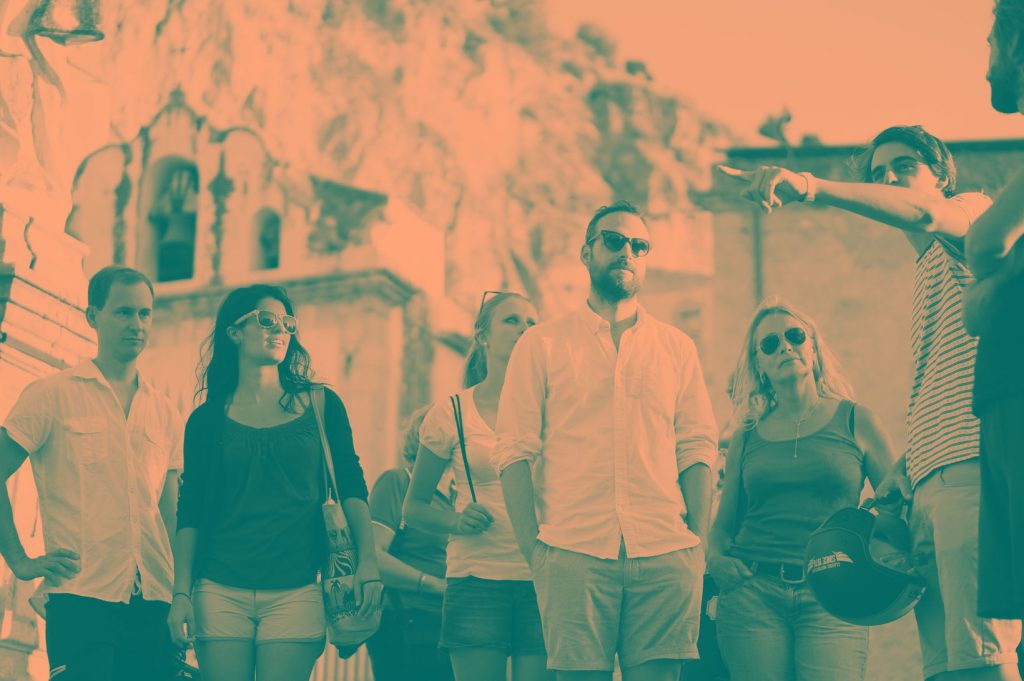 Solemar Academy
the trendiest language school in Italy
● Your boutique Italian language school in Sicily ●
Greeting students at its open doors since 1986, Solemar Academy is proud to be ranked amongst the very best Italian language schools in Sicily.
Our welcoming, easy-going centre stands barely a hundred metres from the golden sandy seafront of Cefalù, the perfect Mediterranean beach town. Its blue skies, clear seas and evocative architecture will be the backdrop you always dreamt of for your Italian studies. And we want to make sure it stays that way: Solemar Academy is committed to sustainable practices and environmental responsibility.
A unique language study experience
The Solemar Academy philosophy
The Solemar ethos is one of friendly professionalism; lessons expertly delivered by highly qualified teachers in an informal context, a school that is as much a community hub as it is a place of study.
We ask ourselves the question: If we were traveling abroad, spending our own money to experience a new culture and investing time and effort in pursuit of learning its language, what kind of environment would we like to find ourselves in?
Our staff are local and always approachable, as ready to chat about Italy's rich culture as they are to help you understand its language. The experience is stress-free and authentically Sicilian – although Italian is of course spoken everywhere. Our students return year after year because they feel part of the Solemar family.
We put sustainability at the heart of our model, too, because we know that international education is about more than the current generation.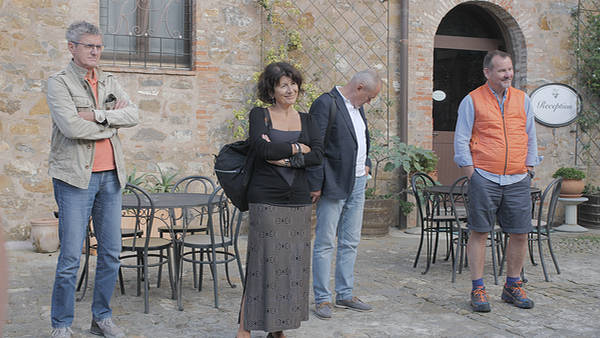 Magical experiences
There's so much more to a good language holiday than the time you spend in lessons. Solemar Academy organises a regular programme of cultural experiences for its students that will make every day you spend with us utterly unforgettable.
Whether your perfect afternoon is trekking across Sicily's most beautiful nature reserve or seeing its fabulous coastline from the comfort of a chartered sailing boat, from mastering Sicilian home cooking to picking juicy olives and learning to press them into your very own oil – the memories and friendships you make with us will last a lifetime.
● The perfect environment ●
Why an Italian language school in Sicily?
If you could only drink Italy, Sicily would be that drink served neat. The most intense expression of the world's most popular national culture.
Here everything is just that little bit more intense: every flavour a little richer, every melody a little livelier, every memory a little more vivid. Goethe famously advised travelers to "see Naples and then die" – we invite you to see Sicily and come to life.
From the volcanic drama of Mount Etna to the tranquillity of its verdant vineyards, our island is one that you absolutely mustn't miss.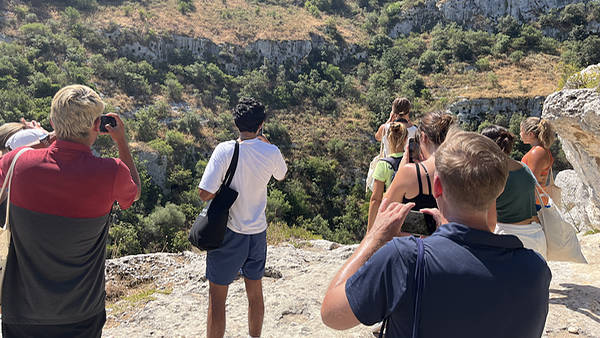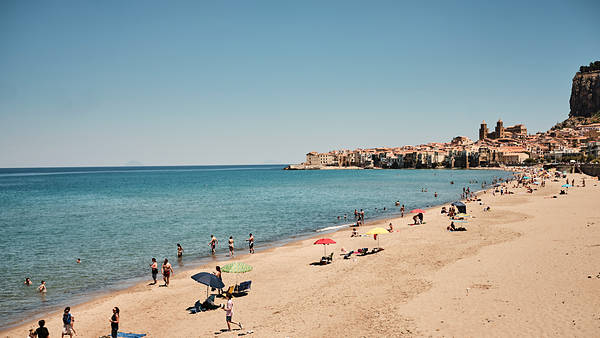 Why an Italian language school in Cefalù?
We know that there are many well-respected language schools in Sicily. We are fortunate, however, to be in such a spectacular setting.
The special charm of this Mediaeval town runs along every cobbled street and through each historic piazza. In the protective shadow of an unmistakable rocky headland, the town slides down to meet the Tyrrenhian sea. Its iconic coastline, UNESCO-protected Norman cathedral and enticing array of restaurants, cafes and bars offer something for every kind of traveller.
Learning is about creating strong memories, and there could be no more memorable scene for your language study in Sicily than this quintessentially romantic seafront town.
Clean, safe and friendly, Cefalù will win your heart.
Why Solemar Academy?
Everybody studies best when they're comfortable, so we spare no effort to make sure you feel at home in Solemar's simple but stylish surroundings.
From the smell of fresh coffee drifting from our door to the sustainable materials we use throughout the premises, everything is driven by a passion to make sure our students are in the best possible space to learn – both metaphorically and literally.
You'll find five distinct classrooms, each with their own decor and purpose, but all designed with a nod to the local heritage and your comfort as a priority. Our open-plan lobby is a spot to hang out, make friends and recharge your batteries – as well as those of your electronic devices, should the need arise!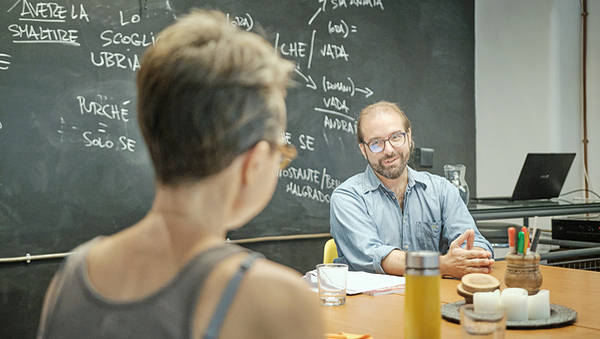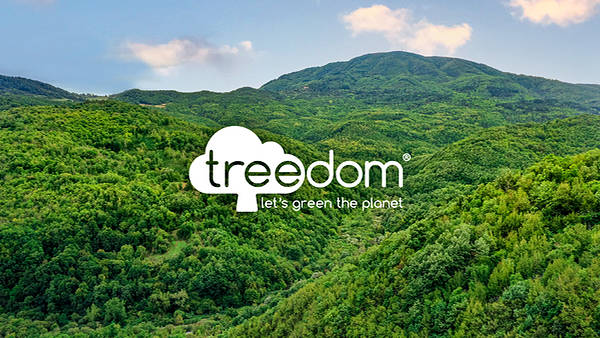 A Green School
We are proud to call ourselves a truly green school, where we have been plastic-free for several years now. We offer filtered tap water, and use sustainable materials wherever we can. In 2023 we're revamping our air conditioning infrastructure to the very highest standards of energy efficiency. We have even partnered with the fabulous NGO Treedom to contribute towards planting an area of woodland to offset our carbon emissions.
● Find the right Italian language course for you ●
No student wants to be seen as part of the crowd. We continually review and adapt our wide programme of Italian classes to guarantee solutions for casual enthusiasts and dedicated linguists alike.
All ages and language levels
From true beginners to expert Italian speakers, and from high school groups to our friends on the ever-popular 50+ courses, Solemar Academy is a home for every kind of Italian learner.
Standard Course
20 units per week
Small groups
Mix of ages and nationalities
CLUB 50+
Rich program of experiences
Guaranteed to work with your own age
Sicilian culture and the Italian language
Intensive Course
30 lessons per week
Learn and practice
See results fast
Twelve months a year
Unlike many of the Italian schools in Sicily, Solemar is not seasonal, but open from January to December. Our summer courses are of course popular with beach lovers, coming to work on their tans as well as their pronouns, but from October to May we host many longer-term students – often solo travellers and many of whom have reached retirement.
Not only does the lower season offer the advantages of cheaper accommodation and less intense temperatures, students also find that the smaller classes of the cooler months are the perfect opportunity to make lasting friendships.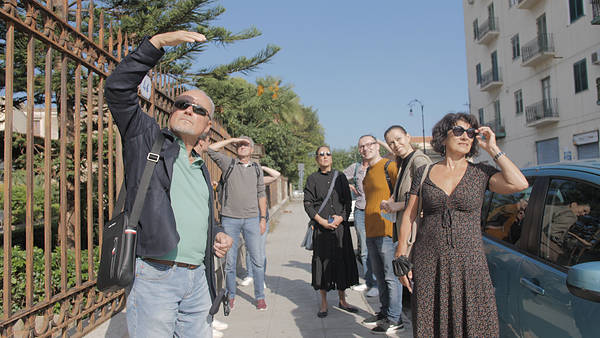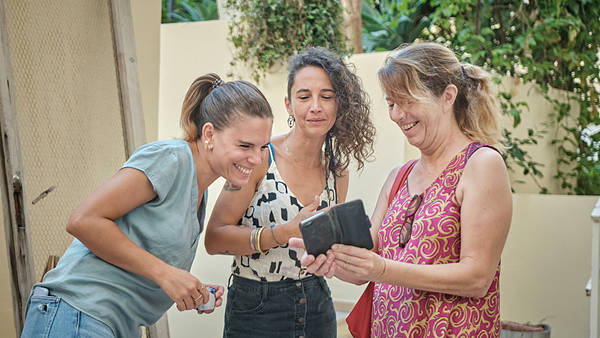 Get CELI and DILS-PG certificates at Solemar
Our school is a fully accredited testing centre for the Certificate of Knowledge of Italian Language (CELI) exams, recognised by the Italian government and worldwide. We also host examinations for the DILS-PG qualifications, the industry gold standard for teachers of Italian.
Distance learning with qualified native teachers
As much as we know you'd all love to study Italian in Sicily, sometimes life is going to get in the way. That's why our expert staff are also trained in delivering the highest quality language teaching in a variety of online contexts.
Whether you want to keep your hand in between visits to Cefalù, or to follow a year round course, we will support you on your Italian language journey.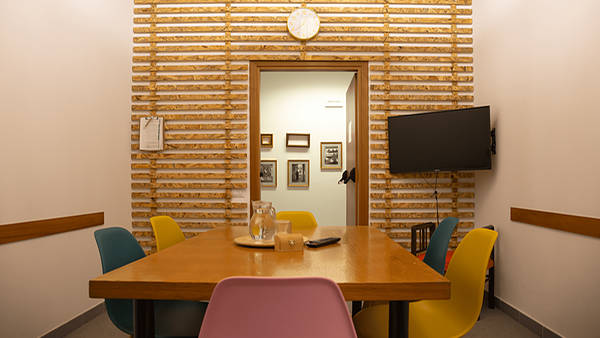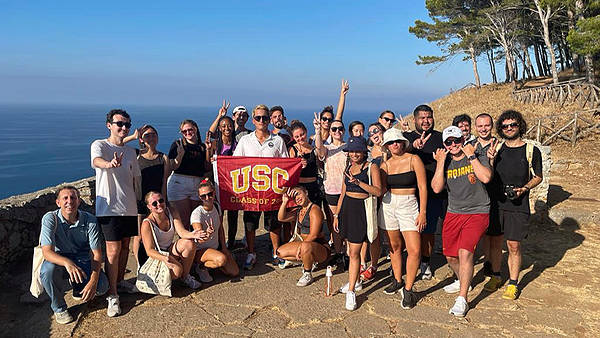 Sicilian study trips for schools and universities
If you're a teacher organising a study abroad program or faculty-led program in Italy, we'd love to help you design an educational and cultural package that's perfectly tailored to the needs of your group.
Our partners include high schools throughout Europe and higher education institutions as far afield as the University of Southern California.