Learn Italian Online – Italian language school in Italy
Learn Italian Online with Solemar Academy
Studying Italian online has become more and more common and we have set up our own coordinated system to offer amazing Italian online classes. If you want to learn Italian online, remember that our teachers follow the same theoretical approach as the courses physically held at our school premises. Teachers have been adequately trained and the feedback received from students encourage us to continue in this direction.
We have students, for example, who have been following individual online courses for several years. In this way they can continue to train even from home and, in addition, they can stay updated on what's going on in Italy. In fact, in addition to conversation (via Skype or Hangouts) Solemar's teachers set up an online space (Google Classroom) with useful course materials.
How does the Italian online course work?
Until recently the online Italian courses offered by most operators (specialized websites, Italian schools, freelance teachers) were based exclusively on video conferencing systems (e.g. skype). The students mainly had conversations or, in some cases, they also went into other aspects through rather tricky systems: the teacher would send documents via email on which the student worked and which he or she had to send back. In short, a very complicated process.
We are aware that not all students want to engage only in conversation. Some students want to use online courses to prepare exams (CELI, CILS, PLIDA, DITALS, DILS-PG, CEDILS), other students want to improve their grammar skills and then be more fluent and confident when they come to Italy, others want to stay updated on current Italian topics or specific issues.
For all these needs, but also to give more structure to online lessons, we have implemented a system that involves the use of two systems: Google Hangouts and Google Classroom.
Below we show you how the two systems work.
Step 1: Create a Google Account
To be able to use our integrated system – which we guarantee is very simple and very intuitive – you first need to create a google account. We will send you precise instructions about this by email.
Step 2: Access Hangouts
The video calls are done with a Google tool called Hangouts. Hangouts is very similar to Skype but has the advantage of being better integrated into Google's suite (Hangouts – Calendar – Classroom). If you are fond of Skype and you prefer to stay on it, no problem, we can continue to use this platform.
Step 3: Access Classroom
The Classroom application has become very popular in recent times and many public and private institutions are using it to move lessons online or to have a cloud space where students can do exercises or find materials made available by their teachers.
Once you access Classroom, you will find your course. This space is very straight forward. You find the calendar (if there is homework with deadlines, this calendar will mark them for you), a general wall (where you can share materials, songs, links, thoughts and more with your teacher) and then there are folders with lessons. Inside the lesson folders you will find the materials and homework that the teacher has prepared for you from time to time.
The tasks that you find on google classroom are to be completed directly online. You do not have to download, complete, scan and send them back to the teacher. This procedure is a thing of the past. Today we do everything online, in a simple and intuitive way.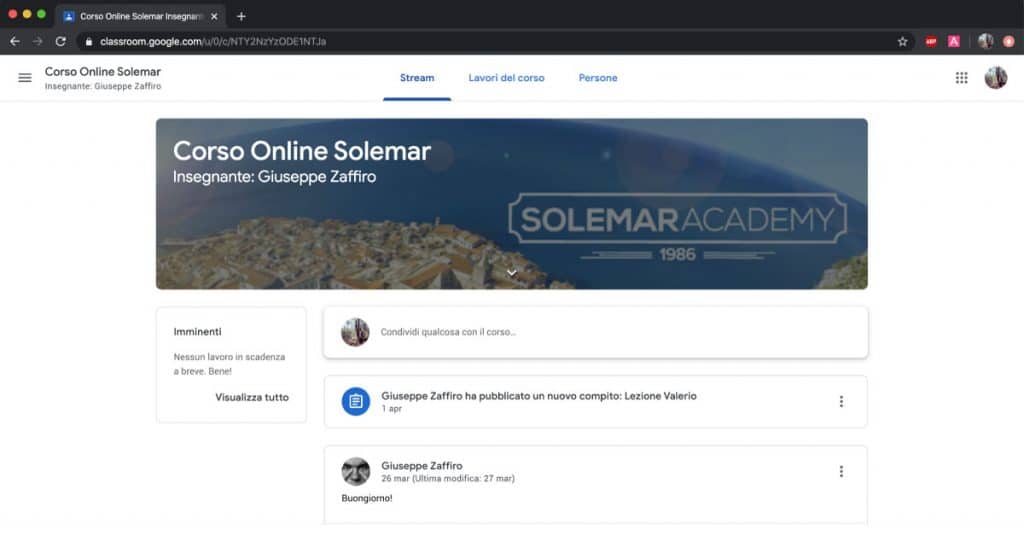 Italian Online Courses
1. Individual Course – Learn Italian Online
The individual online course has a duration of 10 sessions of 45 minutes. The days, times and contents are absolutely customizable. The course includes the regular sending of material by the teacher on the google classroom platform. In this way the student can practice at home and invest time in independent learning. Each lesson includes a live session on Google Hangouts or Skype.
The first Italian lesson online is for free!
The training needed to fully understand how to best use these applications is also included in the price. At the end of the course you will also receive a certificate of participation (digital version) where the level of the course is indicated.
2. E-learning Course – Learn Italian Online
The e-learning course is designed for those who do not have much time available for lessons in videoconference and who prefer to work independently but guided by a remote teacher. It is a 4-week package. Every week the teacher uploads a complete lesson on google classroom. The lesson includes materials, exercises, texts of various kinds. The student can work on the materials and receive feedback from the teacher within a few days. A lesson/meeting via Skype/Google Hangouts is also included in the 4-week package.
The first access to the online platform is for free!
Training in the use of the online platform is also included in the price. At the end of the course the student receives a certificate of participation (digital) with the level of the course.